Bañuelos, N.,  Jang-Tucci, K., & Benbow, R. (2023). Forming Science Identity in Personal Networks: A Quantitative Study of Social Support for Latine STEM Students. Center for Research on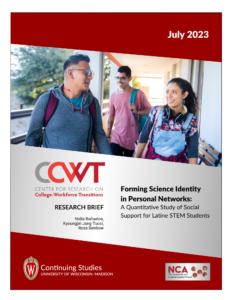 College-Workforce Transitions. University of Wisconsin–Madison.
Abstract: Although Latine students and their families maintain high aspirations for their achievement in STEM (Science,Technology, Engineering, and Mathematics), they continue to face barriers to STEM degree completion and remain underrepresented in the STEM workforce. Social support systems are key to science identity formation and sense of belonging, two important predictors of persistence and attainment in STEM, particularly among historically marginalized students (Chemers et al., 2011; Strayhorn, 2012). For this reason, documenting Latine college students' social networks – including their strengths, structure, and how they change over time– can help researchers understand trajectories in STEM.
Using the Community Cultural Wealth framework (CCW) – a theory focused on strengths within Communities of Color (Yosso, 2005) – this study examines survey responses from Latine STEM majors across the University of Texas System and measures important contours of Latine STEM students' social networks, including (1) the features of these social networks, (2) the forms of CCW students possess in their social networks, and (3) the relationships that exist between students' networks, science identity, and sense of belonging.