In the Spring of 2020, the COVID-19 pandemic disrupted the lives of college students around the world with classes moving online, internships rescinded, and graduation ceremonies cancelled. These developments have affected the career plans and aspirations of a generation of college students. CCWT launched this oral history project to document and amplify student voices and experiences during the pandemic.
Transitioning from in-person classes to online platforms has been difficult for many students in terms of their motivation, ability to concentrate, and their loss of one-on-one time with peers and professors. For many international students, these challenges of learning online have only been intensified by the hurdles of attempting to hop onto zoom chats in the middle of the night while taking courses in a different time zone. Others, staying close to campus, have had to deal with the isolation brought on by pandemic restrictions while far from home. Whether abroad or close to campus, international students have also had to face additional challenges related to the bureaucratic and logistical intricacies of manouvering the US university system without holding domestic citizenship—intricacies which have implications on funding opportunities, student fees and visa regulations.
Additionally, international students from particular regions, including Chinese students, have faced discrimination on campus stemming from national anti-Chinese sentiment perpetuated by the U.S. President's labeling of COVID-19 as a "Chinese virus." [1] Such difficulties have added extra stress to international students attempting to complete coursework while dealing with the far-reaching impacts of a pandemic.
UW-Madison student Esther Ama Safia Mohammed, with assistance from graduate student Alexandra Pasqualone at CCWT, conducted and edited interviews, which demonstrate the ways the pandemic has had a significant impact on international students.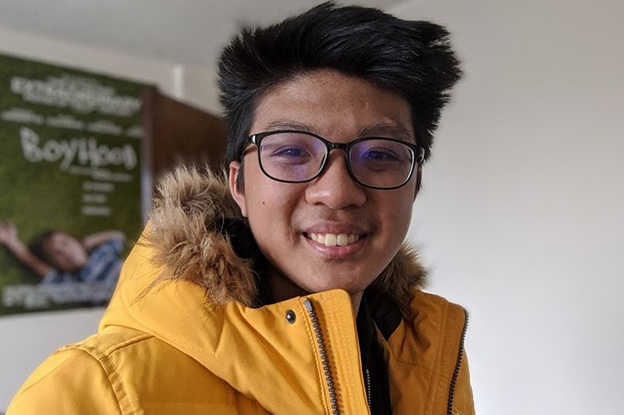 "In terms of finals, it was stressful because I had to talk to the professor about arranging a make-up date since TA's and professors were not awake to proctor my exam at 3 o'clock in the morning."
Sunanda Goh, a computer science major at UW-Madison, moved back to Malaysia following the university announcement that the remainder of the Spring 2020 semester would transition to online instruction. It was 12 am in Malaysia at the time of this interview, demonstrating the challenges Sunanda and other international students face as they attempt to learn while abroad.
Discussing this transition to online learning, Sunanda addresses the significant challenges of learning while living in a different time zone, the inability to study with peers, and the challenges of meeting with professors.
Sunanda: Attending classes remotely from Malaysia means that if I want to "visit" office hours at 2 pm Madison time, I need to wake up at 3 am where I live in Malaysia to talk to my professor. During the initial transition, I had to talk to a lot of professors about my concerns and my difficulties with remote learning while living in a different time zone, so I had to ensure that my grades were not affected because of this additional challenge.
As Sunanda notes above, the biggest challenge he has faced includes communication with professors. This communication includes one-on-one meetings but also the planning involved in the switch to online courses.
Sunanda: The hardest thing to do is to talk to professors. A lot of the time when the professors are making a decision, they are thinking, "Hey, how am I going to move this content online and do so smoothly?" They tend to forget about people that are living in a different time zone. I am really lucky that my professors have been understanding. Some courses are synchronous, so you have to use zoom to join the lectures in real time. Luckily, none of my courses are synchronous. All my lectures are prerecorded and then sent to us. However, in terms of finals, it was stressful because I had to talk to the professor about arranging a make-up date since TA's and professors were not awake to proctor my exam at 3 o'clock in the morning.
In addition to coursework, Sunanda and others have faced complications related to work opportunities and internships. Prior to the start of the pandemic, Sunanda worked at a student computer lab on campus. Things quickly changed after the closure of computer labs. Despite this, Sunanda notes the significant amount of support from the university.
Sunanda: Despite not being able to work, the university gave us the first two weeks of employment wages and if you needed more, I believe you can apply for that. Overall, I think the university is doing a good job of ensuring that employees aren't affected in this way.
While support from the university has assisted in combating the challenges all students have faced this year, international students have still had to maneuver through additional hurdles as non-residents and non-citizens.
Click here to learn more about Sunanda's concerns regarding future job protests and his perspectives on the recent protests and racism on UW's campus.
---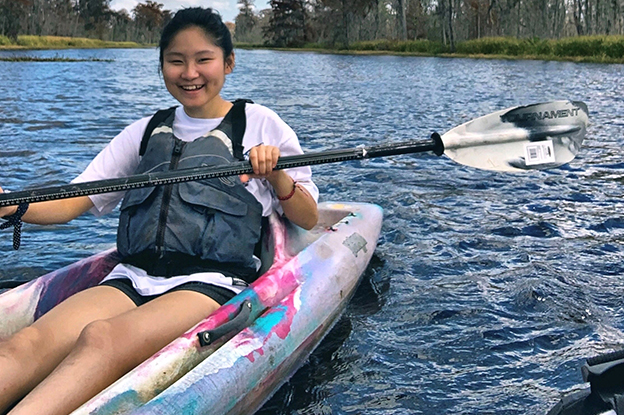 "President Trump enacted some policies which are not friendly to Chinese international students…. I may not continue my studies in America anymore after I graduate"
Like Sunanda, Niu Xiaokun, also known as Mia, experienced the unique challenges of navigating school as an international student. Unlike Sunanda, Mia stayed near campus as coronavirus cases increased.
Mia is a major in Economics with a certificate in Environmental Studies at UW-Madison. She is also an international student from China. Her choice of program was inspired and encouraged by her parents, both of whom work in the banking sector. To Mia, "economics is important because, no matter where you work, either in the bank or the financial services, it is so important to your life."
She notes the ways that that pandemic robbed her, and her classmates, of the social and intellectual experiences involved in attending courses, meeting new people, speaking in-person with professors and peers, and enjoying social events alongside the campus community. Additionally, these changes have had significant impacts on her and her friends' decision-making processes regarding their education:
Mia: My friends wanted to go back home and it has actually impacted their lives. One of my friends applied to her home country's university, but she could not get back home because of the situation and now it has been hard for her.
In addition to these personal experiences, Mia also talks broadly about the impacts of the pandemic on her future career plans and employment, including national concerns related to Chinese international student education and employment policies set forth by President Trump.
Mia: I have not really planned my future career. I am just hoping I can get a job after I graduate here. Maybe I will go to Graduate School. I don't really know. There are so many people unemployed. I just feel like it is much harder for international students to get employed in America. And, you know, President Trump enacted some policies which are not friendly to Chinese international students. There is definitely going to be some impact. I may not continue my studies in America anymore after I graduate.
This anti-Chinese sentiment is also something Mia experienced on campus. Local news articles reported racist remarks written in chalk on State Street near campus, a location where Mia herself also experienced unwanted commentary from a male biker who shouted lewd remarks as he passed. Discussing these experiences with racism, Mia notes:
Mia: I do not really feel racism here, even though when the pandemic or coronavirus started someone wrote something like "China virus" on State street. I did not get really mad because it is not an extreme case, since not everybody thinks that way. In my life, I feel like I have faced racism once. It was a man riding a bike past me on State street and he shouted, "look at that sexy ass Asian girl." I felt a little bit offended.
Mia, like other Chinese students, have had to face additional challenges as they often have to combat racist remarks encouraged by some politicians' lambasting of China's role in the coronavirus outbreaks.
Click here to learn more about Mia's experiences on campus and her take on recent protests
---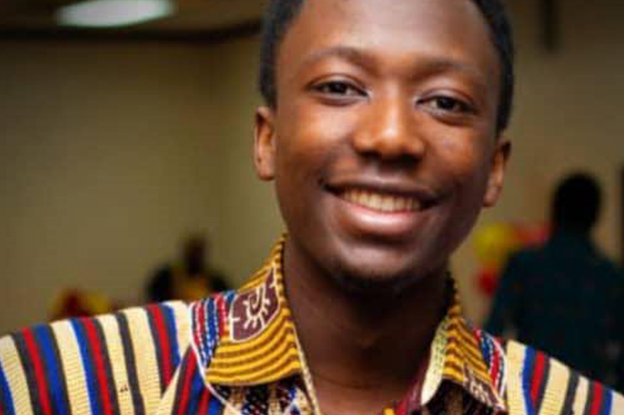 "Because I am on an F1 visa, I do not want to mess it up. If I go to jail or get arrested for protesting, I am pretty sure I am going back home"
International student Sheriff Mohammed Issaka also details the difficulties of transitioning to online courses. Yet, unlike Sunanda, while staying close to campus has allowed Sheriff to avoid the difficulties of managing coursework while living in a different time zone, he has also had to deal with the struggles of staying in isolation miles away from family.
Sheriff: It is stressful being here and not being with family, especially because I was living in a dorm. So, the only people, I could communicate with were other people who were in the dorm. Suddenly, one day they were here and the next day they were all gone. It was a massive shift and I did not have a lot of people around, so it was lonely in the beginning. I kind of miss that human connection. I think I was on my way to being depressed.
In addition to being seperated from family and enrolled in school, Sheriff's experiences living alone while in school point to the unforeseen difficulties brought on by the pandemic. As a solution to this self-isolation, Sheriff moved in with new roommates to help ease the challenges of living alone during a pandemic.
Sheriff: I think it was difficult keeping up with online classes. It was extremely hard not having family around but then I moved in with some really amazing people. I love every second of it. I think I am feeling good right now because I have those people around. A lot of them are Ghanaians, so we kind of have that connection and it feels like home. But then during the semester, it was crazy for me.
While impacting his current employment, the pandemic has also impacted future plans to travel internationally, specifically his desire to study abroad in China. Sheriff notes tensions in China related to interactions between Chinese populations and Africans in the country.
Sheriff: I was thinking about studying abroad in China in the Spring of next year, but now I cannot do that. We have all heard the news on how tense the relationship between China and Africans or Black people, in general, is right now. I always wanted to maybe have some experience in China, but there is news or speculations that the Chinese people are attacking Black people, kicking them out of their houses because of the pandemic. I really want to truly explore the world, especially China. And I wonder if I really want to do that because of the color of my skin.
Sheriff's race, in combination with his status as an international student, which limits his ability to join recent protests following the killing of George Floyd. In addition to experiencing racism, Sheriff points to his international student status which offers him limited legal and societal protections to join his peers in protests against racial injustice.
Sheriff: I am an international student and that is kind of a bit confusing. Because I am on an F1 visa, I do not want to mess it up. If I go to jail or get arrested for protesting, I am pretty sure I am going back home. I do not know what I would say to my parents. I am restricted in a way because I am an international student. It is a weird position to be in.
Despite these challenges and his inability to protest in the same ways as other students, Sheriff notes the benefits of living during this particular period stating, "I am glad that I am living in a time when people are starting to appreciate what it means to be Black in the U.S."
To read more about Sheriff's time at university, his own experiences with racism, and the impacts of the pandemic on his life, click here.
---
International students, like many, have had to face the significant challenges brought on by the pandemic. Additionally, they have had to deal with the unique difficulties of taking courses while living in different time zones, navigating the pandemic while living miles from family and friends, and dealing with the limited protection due to their international status even as they face racism as students of color on college campuses.
---
Staff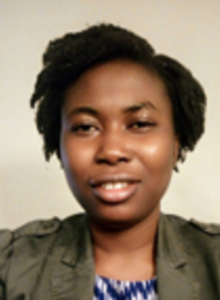 Esther Ama Safia Mohammed is a Fall 2020 graduate of the Professional French Master's Program at UW-Madison. She also holds a master's degree in Linguistics and Didactics from the University of Cape Coast, Ghana. Her academic research on student motivation and international mobility informs her understanding of Human resource development. Ama has gained diverse professional experiences from working as a teaching assistant in Cape Coast, as an executive assistant at a logistics company in Burkina Faso, as an assistant manager of a cocoa cooperative in Cote d'Ivoire and as a project assistant in a philanthropic organization in Quebec. In summer 2020, Ama worked at CCWT with a team of student-workers to collect oral histories to document student-experiences during the coronavirus pandemic. Through this work, she gained insight into student anxieties concerning their future careers in the fast-approaching post-Covid world.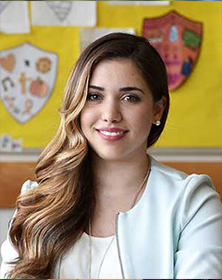 Alexandra Pasqualone is a second-year student in a Joint PhD in Educational Policy Studies (EPS) and History. She has spent several years teaching in various capacities, including positions as a high school teacher in NJ, an English teacher at Akdeniz University in Turkey, and a Career Access and College Readiness Coordinator in Philadelphia. She is broadly interested in the historical role of youths as major activists who spurred changes within their communities. As part of her MA thesis at the University of Cincinnati, Alexandra conducted an oral history project attending to the protests of high school students in Philadelphia during the late 1960s and 1970s. Her current research centers around the implications of schools on Arab-American identity formation during the mid-twentieth century.
---