In the Spring of 2020, the COVID-19 pandemic disrupted the lives of college students around the world with classes moving online, internships rescinded, and graduation ceremonies cancelled. These developments have affected the career plans and aspirations of a generation of college students. CCWT launched this oral history project to document and amplify student voices and experiences during the pandemic.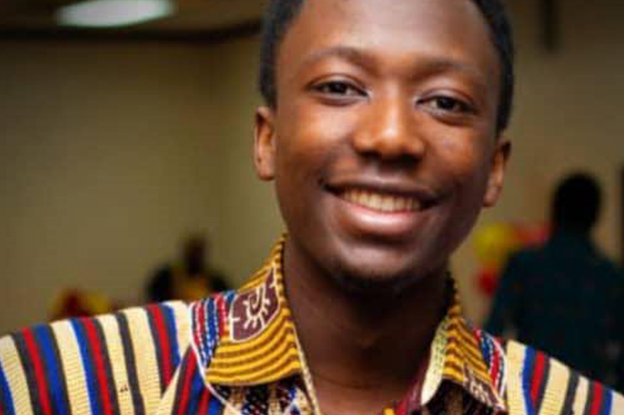 Sheriff Mohammed Issaka is completing a double major in Computer Science and Data Science. Discussing his interest in computer science and data science, Sheriff states "I started off thinking I would be majoring in computer science and maybe mathematics or international studies but I've been doing some AI (artificial intelligence) programming and it is fun. And AI and Data Science are kind of intertwined. They just created this new Data Science major which is like one of the first in the US, So I thought, yeah, why not?" Sheriff has always been fascinated with technology and how it works. He comes from Ghana and he believes that "the main difference between the developed world and developing world is technology". He is studying Computer Science because "there needs to be lots of technocrats who should be able to learn in a way that can be tailored to Africa's problems." Sheriff discusses his experience following the COVID-19 outbreak and the recent protests occurring on college campuses. This interview with Sheriff was conducted by Esther Ama Safia Mohammad and the transcript was edited and condensed by Alexandra Pasqualone.
---
When you first learned about COVID-19 affecting programs and courses at UW-Madison what was your reaction?
I was like "What the heck are we gonna do?" I thought it wasn't possible for us to transition – one week we are doing in-person classes, the next week we are doing online classes. I was taking extremely hard classes, including an electrical engineering, linear algebra, and differential equations course. I was also taking an Artificial Intelligence course at the same time. I was like "Oh boy, I'm gonna die!" Because even with in-person I'm struggling. It was really scary for me.
Can you describe some of the ways the pandemic has affected your life as a student?
First of all, it is stressful being here and not being with family. Especially because I was living in a dorm so the only people I could communicate with were others in the dorm. But, then suddenly, one day they were here and the next day they were all gone. It was a massive shift and I did not have a lot of people around so it was lonely in the beginning. I kind of missed that human connection. I think I was on my way to being depressed.
And, has the pandemic affected any of your projects or collaborations with other students?
Yeah, definitely. With most of my classes, especially the hard ones I just talked about, I was working hand-in-hand with other students because these classes require a community to work with and conduct projects. And then, when everything went online it was really hard to keep track of those things. I managed to end the semester on a good foot but, I think I would have learned more if the semester was not so depressing.
How has remote learning gone for you?
Terrible! I will say I am not a big fan of online classes. Well, first of all, I did not go to a lot of my classes anyway. So, for some classes, I was like "Yay, we thank God!" Like those social sciences and humanities courses, you do not need to be in lectures, you just have to read the books, and keep up with the homework. And with those, I was kind of excited that I would not have to go to lectures. But for some of them — For example, my African literature professor was amazing. I loved the way he taught the class. So, I kept going.
I will say I am not a big fan of online classes.
Besides remote learning, have there been any changes to your university-related activities that you or the university have made in response to the pandemic? In terms of coursework, research, or academic trips being canceled?
I was doing research with a professor in the African Studies Department and in the Information School. We were doing research on AI (artificial intelligence) in Africa and some other really interesting stuff. So, we were able to transition online smoothly. Right now, I am still working with him and getting paid.
Also, I am the president of a student [organization]. The pandemic impacted that because the whole point of a student organization is to bring people together to have fun but then there are no people to bring together anyway and people do not really like virtual stuff. The student organization is called Project Pengyou. It is a Chinese word that means Project Friendship. It basically tries to create a good relationship between Asia and the rest of the world with the focus on the U.S.
Are you employed during the academic year? And how has COVID-19 affected your employment?
I worked with the Data Science Institute, with amazing people and I loved them. I really miss being around my boss and colleagues at work. After the pandemic started, I could do some of my work from home like I still do. I used to work at least 10 hours each week but then online it is like okay, "there is this file we want you to work on." It would probably take an hour or two.
Are any of these changes especially challenging or difficult to manage concerning your university-related activities?
I think it was difficult keeping up with online classes. It was extremely hard not having family around but then I moved in with some really amazing people. I love every second of it. I think I am feeling good right now because I have those people around and a lot of them are Ghanaians so we kind of have that connection and it feels like home. But then during the semester, it was crazy for me.
What are your future career plans and how has COVID-19 affected those plans going forward?
My plans in general for the future entail a big question mark. But then I am hoping to work in the U.S. after I graduate, maybe for a couple of years before I go back home. I think COVID has not necessarily impacted my future plans. But this summer I was looking forward to doing an internship with Cisco Systems. I think I could have gotten an internship over the summer, with the company I've always dreamed of, but then it did not happen because of the pandemic.
Has COVID-19 affected the availability of internships or entry-level jobs in your field of interest?
I think so. I am hoping that by the time I graduate the blow will have softened. I know a lot of my peers who just graduated from Computer Science are not necessarily finding jobs because the system is choked right now. So many people are unemployed. I'm hoping by the time I graduate the system will absorb the new people. Maybe not right now, but in the future.
Has it changed your plans?
I was thinking about studying abroad in China in the Spring of next year, but now I cannot do that. We have all heard the news on how tense the relationship between China and Africans or Black people, in general, is right now. I think I should maybe give it a year for the tension to die down, instead of going at the peak of things.
I was thinking about studying abroad in China in the Spring of next year, but now I cannot do that.
If your employment or internship opportunities were remote, how would those experiences be compared to your previous experiences with in-person internships or jobs?
I am working with my professor at the Data Science Institute. I think I do not really like working virtually. For example, if I write code or I do some work, I want to show it to my boss and say "Hey, what do you think? Is this how you want the file to be? Should I edit or something?" But now everyone is busy. I understand. You send an email, it takes a couple of days to get a response. You do not get the feeling of doing the work. For both of my jobs right now, I do them because I love my bosses. So now that the personal connections have been removed, I am slowly drifting away from my main reason for doing the work in the first place.
How has the pandemic impacted your job search?
Right now, honestly, searching for a job is not a priority for me. First of all, I had a job when the semester began and I have a job for the summer. I am going be a junior next semester, so I have at least two years to see if the pandemic continues to shape the world in ways that are unforeseen. Maybe I will be impacted in my job search in general but as of now, I am hoping that this whole thing goes away in a year or so.
I am going be a junior next semester, so I have at least two years to see if the pandemic continues to shape the world in ways that are unforeseen.
What support do you think students need from their colleges or universities to help them get a job in the middle of this crisis?
I think in general, the university should be open to making a lot of jobs virtual. Yeah, it would be nice if they are in person, but I know a lot of jobs can be done online. For almost all the tasks that we need to do online technology is available; you can track the person, track how many hours they do, everything. I think if more jobs are open to people online, that would be great.
In recent weeks, we've seen mass protests and outrage over the killing of George Floyd in Minneapolis, have these events influenced or otherwise affected you in any way?
I think so. I think even before I was affected by the color of my skin anyway. With these events, I walk around and people are being too nice to me and I am like "Just be real, do not try to be nice." I think in general, it is affecting every one of color right now. Now, people are seeing that there is a problem, but then shouldn't people have seen that this problem existed a thousand years ago. I do not know.
I am an international student and that is kind of a bit confusing. Because I am on an F1 visa, I do not want to mess it up. If I go to jail or get arrested for protesting, I am pretty sure I am going back home. I do not know what I am going to say to my parents. But on the other side, if I were in George Floyd's shoes, it would be the police. And he is not going to say, "Yo, show me your passport!" You know, he is not going to know the difference between me and an African American. So, I am affected, and I feel like have to stand up for my rights. But then I am restricted in a way because I'm an international student. It is a weird position to be in.
Have the events impacted your academic interests or future career plans?
I thought Africa and China should really be for each other, you know they should have a strong connection. This may be really personal because I am not talking about the U.S. and COVID in general. I always wanted to maybe have some experience in China, but there is news or speculations that the Chinese people are attacking Black people, kicking them out of their houses because of the pandemic. And it makes me think, "okay, well, I wanted to be in this place [China] to see how it goes." I really want to truly explore the world, especially China. And I am like do I really want to do that because of the color of my skin? So, a lot of light has been shed on this with the pandemic. Recently, a lot of Black people have been kicked out on the street, there are a lot of videos and it is really scary. I always wanted to do it, but do I want to do it now?
Have you personally encountered racism during your time as a college student?
Too many times. I do not even keep track anymore .I always find it weird to talk about all these cases, but I can give a recent example. We just moved into this apartment, and then it was I think around 11 pm. My roommate and I just wanted to go out for a walk because we had been in a room playing games and watching the show the Blacklist all day. So, we just stepped out and one white lady from above called to us. What I heard was, "Do you guys live here? What are you doing here?" I was like, "yeah, we do live here!" It was a weird encounter and I think that was a day before George Floyd's death. To me, you walk around the street at night and people are crossing to the left because of you. People turn around and they see you and they start running. People scream at me sometimes. I tried to get into an elevator at one time and there was this lady, she just saw me and started screaming. You see, I do not want to talk about it.
Do you have any final thoughts?
None of this was expected but if it has taught us anything, it is that we are all humans. I think people are getting to realize that the color of your skin does not necessarily shield you from anything. Just because you are white does not mean you are not going to die from Corona. And now people are buying a lot of books on Black culture; people are reading more about Black culture. People are watching more about what it means to be Black, about how the system is systematically oppressing people. I think in a way, it is more like a domino effect, you know. The pandemic came, now people are sitting at home, they are contemplating things. People might be affected, but in a way, it is still yielding some positive outcomes. On the bright side, I am glad that I am living in a time when people are starting to appreciate what it means to be Black in the U.S.
---
Staff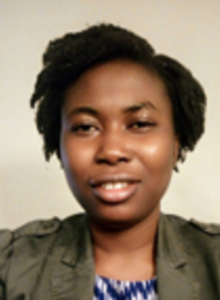 Esther Ama Safia Mohammed is a Fall 2020 graduate of the Professional French Master's Program at UW-Madison. She also holds a master's degree in Linguistics and Didactics from the University of Cape Coast, Ghana. Her academic research on student motivation and international mobility informs her understanding of Human resource development. Ama has gained diverse professional experiences from working as a teaching assistant in Cape Coast, as an executive assistant at a logistics company in Burkina Faso, as an assistant manager of a cocoa cooperative in Cote d'Ivoire and as a project assistant in a philanthropic organization in Quebec. In summer 2020, Ama worked at CCWT with a team of student-workers to collect oral histories to document student-experiences during the coronavirus pandemic. Through this work, she gained insight into student anxieties concerning their future careers in the fast-approaching post-Covid world.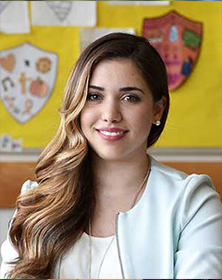 Alexandra Pasqualone is a second-year student in a Joint PhD in Educational Policy Studies (EPS) and History. She has spent several years teaching in various capacities, including positions as a high school teacher in NJ, an English teacher at Akdeniz University in Turkey, and a Career Access and College Readiness Coordinator in Philadelphia. She is broadly interested in the historical role of youths as major activists who spurred changes within their communities. As part of her MA thesis at the University of Cincinnati, Alexandra conducted an oral history project attending to the protests of high school students in Philadelphia during the late 1960s and 1970s. Her current research centers around the implications of schools on Arab-American identity formation during the mid-twentieth century.