Filter by Category:
Search
Year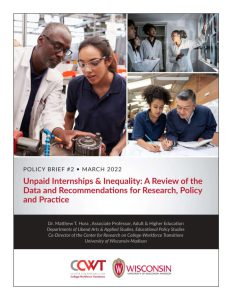 Hora, M.T. (2022). Unpaid internships and inequality: A review of the data and recommendations for research, policy, and practice. Policy Brief #2. Center for Research on College-Workforce Transitions. University of Wisconsin-Madison.
Abstract: Internships can be "door openers" to opportunity and social mobility for college students, but unpaid internships pose considerable legal, ethical, and practical challenges. In particular, low-income and first-generation students may be unable to pursue unpaid positions, thereby acting as a discriminatory gatekeeping function that exacerbates inequality. In this policy brief, CCWT co-Director Matthew Hora first reviews the evidence regarding the prevalence of unpaid internships and the demographics of students pursuing them, followed by existing policy solutions and recommendations for future research, policy, and educational practice.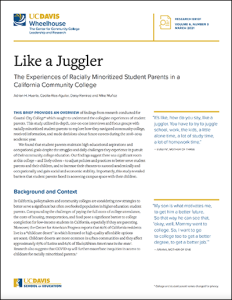 Huerta, A.H., Rios-Aguilar, C., Ramirez, D. & Munoz, M. (2021). Like a Juggler, the experiences of racially minoritized student parents in a California community college. Center for Community College Leadership and Research. University of California-Davis.
Abstract: This brief provides an overview of findings from research conducted for Coastal City College* which sought to understand the collegiate experiences of student parents. This study utilized in-depth, one-on-one interviews and focus groups with racially minoritized student parents to explore how they navigated community college, received information, and made decisions about future careers during the 2018–2019 academic year.
We found that student parents maintain high educational aspirations and occupational goals despite the struggles and daily challenges they experience in pursuit of their community college education. Our findings suggest there was significant room at this college – and likely others – to adjust policies and practices to better serve student parents and their children, and to increase their chances to succeed academically and occupationally and gain social and economic stability. Importantly, this study revealed barriers that student parents faced in accessing campus space with their children.
Williams, K.M., Thompson, M., & Hora, M.T. (2020). Supporting Black Interns through Vicarious Racial Trauma: Policy Recommendations for Employers and Postsecondary Institutions. Policy Brief #1. Center for Research on College-Workforce Transitions. University of Wisconsin-Madison.
Abstract: In the wake of the 2020 protests demanding justice and equality for marginalized communities, Black undergraduates have continued to pursue and complete internships around the country. Recognizing the psychological tax that Black student interns must bear given the current political and racial climate, in addition to the unlikelihood of these protests being the last time students are forced to cope and heal while maintaining their academic and internship commitments, in the current brief we address this critical question: "What can host organizations do to support and protect Black student interns?" In this brief we specifically sought to (1) increase awareness of issues facing Black student interns, and (2) provide specific actions that employers and higher education professionals can take to support Black student interns. We review the prior literature on vicarious trauma and organizational practices that may best reduce the compound effects of vicarious racial trauma on Black student interns. Ultimately, with this brief we aim to stimulate further discussion and examination of racial disparities within internship programs and areas where internships may fall short in supporting the development of Black student interns.