Our Center staff are currently collecting resources from college and university career services offices and other parties involved in internship programming regarding best practices and lessons learned. A resource library of those documents will be provided on this webpage in the Spring of 2020.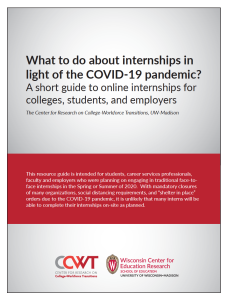 Hora, M.T. (2020). What to do about internships in light of the COVID-19 pandemic? A short guide to online internships for colleges, students and employers. Center for Research on College-Workforce Transitions. UW-Madison.
Abstract: This resource guide is intended for students, career services professionals, faculty and employers who were planning on engaging in traditional face-to-face internships in the Spring or Summer of 2020. With mandatory closures of many organizations, social distancing requirements, and "shelter in place" orders due to the COVID-19 pandemic, it is unlikely that many interns will be able to complete their internships on-site as planned.