Throughout the academic year, CCWT hosts visiting scholar-practitioners active in the areas of career advising, labor market issues, and work-based learning in order to cultivate dialogue on these issues for students, staff and the broader community. In scheduling speakers for the Seminar Series, the Center aims to bring renowned scholars and respected practitioners to share their insights on research findings and policy developments that impact student employability and their career development.
Upcoming Webinars & Seminars
CCWT's fall calendar features a variety of topics at live webinar and in-person events. Join these talented scholars and practitioners to hear the latest research and how to apply it to your work!
---
Monday, October 16th | 3:30  – 4:30 pm CDT  – IN PERSON
Creating Pathways of Kindness & Inclusion In STEM Education             POSTPONED
School of Education, WI Idea Room (159)
Dr. Mica Estrada           To register, CLICK HERE
Due to circumstances beyond her control, Dr. Mica Estrada had to cancel her visit to Madison this semester. If possible, we will reschedule her visit during the spring semester. Thank you for your understanding and flexibility.
---
Thursday, November 2nd | 8:30 am – 4:00 pm CDT  – IN-PERSON

2023  CCWT  Fall  Conference
To learn more or register, CLICK HERE
Dr. Lauren Rivera, from Northwestern University's Kellogg School of Management will deliver the keynote address, entitled: "Insights from Research on Hiring Discrimination: Implications for Career Services & College Graduates." A variety of break-out sessions will cover topics ranging from asset-based student engagement frameworks to career readiness to student wellness, and more!
GOT EXPERTISE? If you have expertise related to CCWT's mission, please consider applying to present at our conference! Learn more.
---
Monday, November 13th | 11:00 am – 12:00 pm CDT  – LIVE  WEBINAR

Redefining Success: When Students in College Transition Programs Choose to Leave
Dr. Mun Yuk Chin & Dr. Moisés Padilla         To register, CLICK HERE
Mun Yuk Chin is an Assistant Professor in Counseling Psychology in the Department of Educational Psychology at the University of Nebraska-Lincoln. As a counseling psychologist, she engages in work that promotes more equitable and compassionate systems for people who encounter stigma and oppression. Her research program addresses the following questions: (1) How are individuals and communities who are marginalized affected by and respond to social stigma; and (2) How do we dismantle systemic barriers (e.g., classism, heterosexism, transphobia) in higher education and mental healthcare. Their research primarily focuses on issues of social class and economic marginalization in counseling and education, and people's experiences of stigma concealment. Mun uses quantitative, qualitative, and mixed-methods approaches. As an educator, they are dedicated to the training of emerging psychologists and counselors.
Dr. Padilla was named Executive Director of the Carnegie Mellon University (CMU) Rales Fellows Program in June 2023. Prior to joining CMU, he held roles at University of Nebraska-Lincoln (UNL), in which he supported first-generation students and students from historically marginalized backgrounds as they transitioned to college. He received his bachelor of science in business administration and his doctor of philosophy in educational leadership and higher education at UNL, as well as a master of science in student affairs in higher education from Colorado State University. Dr. Padilla also served as a Residence Director and was adjunct faculty at Colorado State University.
---
Thursday, December 7th | 11:00 am – 12:00 pm CDT  – LIVE  WEBINAR

Understanding the Experiences of Students Participating in Undergraduate Research Programs
Dr. Daniel Corral         To register, CLICK HERE
Dr. Daniel (Danny) Corral is an Assistant Professor of Higher Education in the Department of Leadership, Higher and Adult Education at the Ontario Institute for Studies in Education. His research examines to what extent geographic context, and programs and policies affect inequality in higher education. He teaches courses on the student experience in postsecondary education, race and educational inequality, postsecondary finance, and evaluation. Professor Corral's research currently focuses on 1) college choice and enrollment in postsecondary education, 2) student transitions into and out of higher education, and 3) institutional finance and student aid. Across these strands, his research focuses on students who have been historically and persistently underrepresented (students of color, economically disadvantaged students, and immigrant students) and the institutions that serve them (Minority-Serving Institutions and community colleges). Professor Corral uses critical theoretical perspectives from sociology and public policy to inform this research and uses methods of causal inference and qualitative interviews.
Past CCWT Events

Community Cultural Wealth: Engaging with the concept of asset-based frameworks with Dr. Trevor McCray
Monday, August 7, 2023
Description: In this 45-minute introductory workshop, Dr. Trevor McCray guides participants through various asset-based frameworks, including CCWT's own research in Community Cultural Wealth, how CCWT utilizes asset-based frameworks, and tools that will help participants implement the concept in their own work.
To access the slide deck for Trevor's presentation, CLICK HERE.
Tuesday, January 31, 2023
Description: Dr. Jones is a leading expert on congressional staff diversity, and  this conversation with CCWT Co-Director Matthew Hora, Dr. Jones will talk about his research on congressional internships and implications for college students seeking careers in Washington, D.C.
Wednesday, February 22, 2023
Description: CCWT's Dr. Matthew Hora talks to Dr. Heather Fischer and Dr. Martin Storksdieck from Oregon State University's STEM Research Center about their research into skills assessment in postsecondary education. They discuss the challenges of data collection, accurately defining learning outcomes, and designing courses that teach students skills that facilitate the college-workforce transition.
Tuesday, September 19, 2023
Description: In this webinar, Dr. Delgado explored how college-educated immigrant-origin Latino/a young adults transitioned into the world of work during the COVID-19 pandemic. Longitudinal qualitative data underscores how immigration policies, COVID-19, education-occupation mismatches, and low socioeconomic origins complicate the workforce transitions for college-educated Latinos/as. Implications of the research and practical solutions were discussed.
To access the slides from Dr. Delgado's webinar, click here.
Monday, February 6, 2023
Description: Dr. Matthew Hora talks to Dr. Allison Lombardi about her focus on college and career readiness (CCR) and higher education experiences of students with disabilities, her measurement study, College and Career Readiness for Transition (CCR4T), and workshops she has developed and facilitated for college faculty focused on inclusive teaching and universally designed instruction.
Wednesday, April 5, 2023
Description: Dr. Matthew Hora talks to Dr. Adrianna Kezar from USC's Pullias Center for Higher Education about how organizational change, campus culture, and the political landscape may impact career readiness initiatives. They share audience questions to discuss timely issues, such as centralized versus decentralized structures and the tools and resources available thanks to research being done at both CCWT and the Pullias Center as well as many other innovative labs.
2022  Events
Monday, September 19, 2022, 12pm CST (US)
Event Recording: https://youtu.be/TZZpGzY32eM
Dr. Adrian H. Huerta is an Assistant Professor of Education in the Rossier School of Education at the University of Southern California. His research focuses on boys and young men of color, college access and equity, and gang associated youth.
This study draws from two-part qualitative interviews with former gang members who earned four-year and advanced degrees. Findings center on the precollege experiences, motivations to enroll in college, and processes of becoming a collegian.
Friday, April 29th, 1pm-2pm CST.
The Center for Research on College Workforce Transitions conducts a book reading discussion group on topics related to education research and the philosophy of education for staff and graduate students at UW-Madison. For the Spring 2022 group, we will be reading a collection of essays and political-economic analysis by disability activist and journalist Marta Russell, titled Capitalism and disability (2019, Haymarket Books). Please click on the link below to register for the discussion, which is scheduled for April 29th, 1-2pm CST.
The event will be moderated by Matthew Wolfgram.
Wednesday, April 27, 2022, 12pm CST
Event Recording
Dr. Blanca Rincón discusses what can be learned from taking an asset-based approach to the study of broadening participation in STEM.

Wednesday, April 27, 2022, 11am CST
Event Recording
Join the leadership and educators from Big Picture Learning for a discussion of best practices for supporting transformational learning through high school internships.
Tuesday, March 1st from 11am to 12pm CST
Special Guest: Dr. Dr. Paul Hernandez, Texas A&M University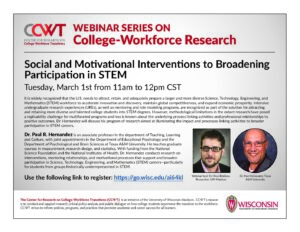 It is widely recognized that the U.S. needs to attract, retain, and adequately prepare a larger and more diverse Science, Technology, Engineering, and Mathematics (STEM) workforce to accelerate innovation and discovery, maintain global competitiveness, and expand economic prosperity. Intensive undergraduate research experiences (UREs), as well as mentoring and role modeling programs, are recognized as part of the solution for attracting and retaining more diverse and talented college students into STEM degrees. However, methodological limitations in the extant research have posed a replicability challenge for multifaceted programs and less is known about the underlying process linking activities and professional relationships to positive outcomes. Dr. Hernandez will discuss his program of research aimed at illuminating the impact and processes linking activities to broader participation in STEM careers.
---