Throughout the academic year, CCWT will host at UW-Madison a visiting scholar-practitioner active in the areas of career advising, labor market issues, and work-based learning in order to cultivate dialogue on these issues for students, staff and the broader community. In scheduling speakers for the Seminar Series, the Center aims to bring renowned scholars and respected practitioners to share their insights on research findings and policy developments that impact student employability and their career development.
2023 Seminar Series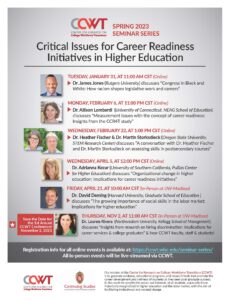 Measurement issues with the concept of career readiness: Insights from the CCR4T study
Monday, February 6, 11am CST
Register here
Dr. Allison Lombardi studies the transition from adolescence to adulthood, with a particular focus on college and career readiness (CCR) and higher education experiences of underrepresented groups, including students with disabilities. Join the conversation with CCWT Co-Director Matthew Hora and Dr. Lombardi on February 6, 2023.
A conversation with Dr. Heather Fischer and Dr. Martin Storksdieck on assessing skills in postsecondary courses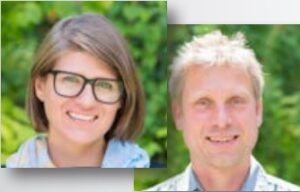 Wednesday, February 22, 1pm CST
Register here
Dr. Heather Fischer's research interests include data quality of volunteer-collected data, developing citizen science and informal learning programs with diverse groups of participants, evaluating the use of citizen science data for scientific research, and open access to volunteer collected data. Dr. Storksdieck has a strong focus on equity and social justice in his studies of evidence-based strategies for STEM engagement and STEM education. Join the conversation with CCWT Co-Director Matthew Hora and Drs. Fischer and Storksdieck on February 22, 2023.
Monday, September 19, 2022, 12pm CST (US)
Event Recording: https://youtu.be/TZZpGzY32eM
Dr. Adrian H. Huerta is an Assistant Professor of Education in the Rossier School of Education at the University of Southern California. His research focuses on boys and young men of color, college access and equity, and gang associated youth.
This study draws from two-part qualitative interviews with former gang members who earned four-year and advanced degrees. Findings center on the precollege experiences, motivations to enroll in college, and processes of becoming a collegian.
Friday, April 29th, 1pm-2pm CST.
The Center for Research on College Workforce Transitions conducts a book reading discussion group on topics related to education research and the philosophy of education for staff and graduate students at UW-Madison. For the Spring 2022 group, we will be reading a collection of essays and political-economic analysis by disability activist and journalist Marta Russell, titled Capitalism and disability (2019, Haymarket Books). Please click on the link below to register for the discussion, which is scheduled for April 29th, 1-2pm CST.
The event will be moderated by Matthew Wolfgram.
Wednesday, April 27, 2022, 12pm CST
Event Recording
Dr. Blanca Rincón discusses what can be learned from taking an asset-based approach to the study of broadening participation in STEM.

Wednesday, April 27, 2022, 11am CST
Event Recording
Join the leadership and educators from Big Picture Learning for a discussion of best practices for supporting transformational learning through high school internships.
Tuesday, March 1st from 11am to 12pm CST
Special Guest: Dr. Dr. Paul Hernandez, Texas A&M University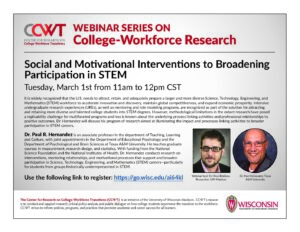 It is widely recognized that the U.S. needs to attract, retain, and adequately prepare a larger and more diverse Science, Technology, Engineering, and Mathematics (STEM) workforce to accelerate innovation and discovery, maintain global competitiveness, and expand economic prosperity. Intensive undergraduate research experiences (UREs), as well as mentoring and role modeling programs, are recognized as part of the solution for attracting and retaining more diverse and talented college students into STEM degrees. However, methodological limitations in the extant research have posed a replicability challenge for multifaceted programs and less is known about the underlying process linking activities and professional relationships to positive outcomes. Dr. Hernandez will discuss his program of research aimed at illuminating the impact and processes linking activities to broader participation in STEM careers.
---