In the Spring of 2020, the COVID-19 pandemic disrupted the lives of college students around the world with classes moving online, internships rescinded, and graduation ceremonies cancelled. These developments have affected the career plans and aspirations of a generation of college students. CCWT launched this oral history project to document and amplify student voices and experiences during the pandemic.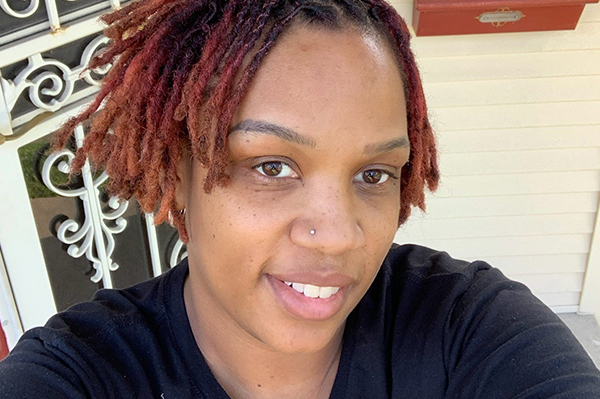 Jerrina Roundtree has found her passion. As a future child services professional, she wants to "be on the forefront of helping people get to where they need to be." In multiple positions with the Division of Milwaukee Child Protective Services – first as a case aid, later an intern, and now office assistant – she was able to demonstrate her talent for "dealing with people," resulting in a recent offer for a position as a social worker. Jerrina is now in her senior year at Milwaukee Area Technical College and hopes to graduate this fall with an associate degree in human services. In this interview she speaks about the experiences with her past internship and plans for her future. The interview with Jerrina was conducted, edited, and condensed by Vivien Ahrens.
How did you find your internship and your current position?
I was a case aid for the Division of Child Protective Services before I went back to school. When I enrolled in my first entry-level class in human services, they made it necessary for us to do an internship. So, I went to my former supervisor and asked if I could complete the 30 required hours with them. I knew what I was getting into. And they were happy to have me on to help them for free. It was unpaid, but for credit. I mostly assisted the social workers with initial assessments, or with home visits to investigate claims of abuse and neglect. I also helped with their paperwork and case notes. And then I went on and took a position as an office associate. I am a very hard worker and they were really interested to keep me on. So, now I work behind the scenes, not on the front lines anymore. Now I'm answering incoming calls and help with records.
Why did you decide to start working with Child Protective Services?
I was looking for more experience in a different area. I come from nursing. I did that for 20 years. I got to the point where I love it, but I wanted to do something different. So, I was looking for more experience in dealing with people in human services, you know? On the front lines.
"I was looking for more experience in a different area. I come from nursing. I did that for 20 years."
And what were you hoping to gain from your internship?
I want way more experience than I currently have. I want to work with AODA [alcohol and other drug abuse], get my hands into a little bit of everything, so I can see what's out there. Because there's a wide range in the human services field, I will try to volunteer or get another internship or a part time job in different places to explore some more.
Could you tell me a little bit more about your internship?
It was kind of sporadic. I would just email them when I was available. And they called me if they needed me like "Hey, I got to go out on a case, and this is the scenario. Can you come to the office?" And I would get up and go to the office. It would be two hours today, maybe five hours tomorrow. I got the required 30 hours done within like two months.
I would go out on a case with a social worker. And I would assist her with TPC [Temporary Physical Custody]. I would take the kids to a doctor's appointment, while she interviewed the parents. Or I would assist with the notes for us to write our case file. I would take the kids out of the room and entertain them while the mother was talking to the social worker. I would pick them up from school and help with childcare when we had TPC kids for court. So, I helped with the whole process, including gathering background information on the parents and the kids, and getting information from relatives.
What was that relationship like with your mentor?
She was an actual social worker and had a bachelor's degree. She coached me along and showed me all the ropes: How to ask people questions, how to write notes and everything. She looked over my notes, and we did mock interviews. She pretty much got me in the position where they were comfortable enough to let me go out.
She did an awesome job. She is a graduate of UWM [University of Wisconsin-Milwaukee] and currently in a master's program at UWM. So, she knows her stuff. I watched her in court. She inspired me to go ahead and continue my education. The way she can take a really bad situation and handle it with patience made me think, "I can do this." She showed me tactics for dealing with difficult parents and really helped me along. We would even meet up outside of work and she would give me a mock interview as if I was the parent. She showed me how to handle the situation.
What else do you think you personally gained from this internship?
I think I got better with my interpersonal skills. I got better at dealing with people, especially in difficult situations. For example, when somebody is yelling at you, trying to hit you or pointing their finger. Sometimes I just babble on; but that is not always a good thing. Sometimes you just need to be quiet and get your thoughts together. In my internship, I learned how to de-escalate the situation and calm the parent down. Since I started working in the field, I have seen improvement in myself in how to handle situations like that. I have learned that it is all about your body language, too. Always remain open and always leave yourself a way out; never let no one back you in a corner.
It also sounds like there were some challenging situations in your internship. Could you tell me a little bit more about that?
Yes. One parent became aggressive. I guess it is normal to react, but I had to learn how to not react. That mother is angry, and she has all the right in the world to be angry. And I am there to do a job, to keep that child safe. And that is just the end of it. I had to learn to walk away from that kind of situation. That mother did what she did to keep her child safe. And I have to know that I am putting myself at risk when talking to an angry parent. So, that is something that I will take away with me for the rest of my career. In that moment, I just had to do self-inventory: You're ok, she did not hurt you. Get that child safe.
Were there ever any issues in respect to your race, ethnicity, gender or other parts of your identity that you felt like were challenging?
Definitely. I have been challenged a lot. I went to homes, where I have been attacked and parents called me every derogatory name that they could think of. In that situation, I sympathized with the parent and kept a good attitude. And I told them they really need to talk with the social worker, who is right there. I am here to take this child to a doctor's appointment and get them checked up and make sure they are okay. When people are not happy, they are going to lash out at someone, and I just happened to be that person that day. I definitely learned how to just focus on knowing that I am there to complete a job. This child is my main focus; to get the children to safety and to help the family.
I'm impressed with how you handled that situation. What role do you think the internship experience that you had will play into your future?
It plays a great role, because it gave me the push I needed to continue my education. When I started the internship, I was in my first human services class. I kind of wanted to quit, because, you know, there is not a lot of money in the human services field. So, I got kind of down about that. But then, the internship gave me the boost of confidence I needed to know that money is  not everything. With hard work, the money will come regardless of what field I choose. I am not trying to get rich. I just want to live comfortably. So, working in the field gave the boost I needed to know: That is where I need to be. That's where I want to be. Helping people. Helping our community.
"So, working in the field gave the boost I needed to know: That is where I need to be. That's where I want to be. Helping people. Helping our community."
How did you manage that financially when you did the first unpaid internship?
I do not know. I took a $10 an hour pay cut. I am 39 years old and I was 37 when I started. Switching to a different career in the middle of my life was not ideal. And most people think I am crazy. I think I am crazy also. But at the end of the day, the question is: Are you happy? I was not happy anymore. I could do a lot of things in the nursing field and make a lot of money, but I was not happy. And now I can feel like my purpose is being fulfilled. Financially it hurts the most. But I am still here, and my kids still eat. We have got a roof over our head so I cannot complain.
"Switching to a different career in the middle of my life was not ideal. And most people think I am crazy. I think I am crazy also."
How do you think your internship is going to affect your career prospects?
Well, working at MCPS, a lot of the supervisors ask me at least once a week "Why haven't you applied for the social worker position?" Because they were hiring like crazy. And I told them: I am not ready. I have to finish school. So, they want me, and I do not think it will be hard for me to transition over.But I want to pursue my bachelor's after I am done with my associate in December.
I do not think it is going to be hard to find a job. With COVID-19 and the way things are, we are going to need people on the front line. I do not even think we will be able to meet the demands of the type of help that communities everywhere in the United States will need. I do not think they have enough people. It still will be booming in 10, 15, 20 years, because it will take that long for us to recover, not only from COVID but so many things we are going through in this country. There is so much that we face. People are going to need help and I want to be on the front lines of that.
So, could you tell me a little bit about how COVID-19 is affecting your life at the moment?
Well, I am blessed to have a job that pays me something. I am not quite sure what they are paying me yet, because they do not know. I work for the state. I am considered non-essential so, I have been at home since mid-March. I have a three-year-old and a 10-year-old. I have been home with them every single day. I am teaching my kids, trying to help them with their studies and trying to keep up with my studies. I have applied for a few jobs that maybe I can work from home, but my main focus is to keep my family safe. We went out yesterday to the backyard and got a little fresh air. I try not to watch too much news – I really get scared. And I am kind of missing adult conversations. I definitely miss school. I really do miss my face-to-face classes; I do not like this online crap. I like the interactions we have and the insight they have. It is just not the same on the computer.
---
Staff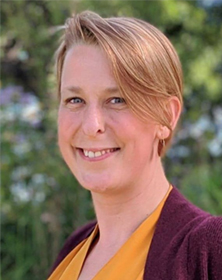 Vivien Ahrens is a Project Assistant at the Wisconsin Center for Education Research, and a doctoral student in Civil Society and Community Research at the University of Wisconsin-Madison. She holds a master's degree in Social and Cultural Anthropology from the Ludwig-Maximilians-Universität, Munich, Germany. Vivien is interested in educational program evaluation. She aims to contribute to participatory evaluation methods that support participants' and facilitators' reflections on program goals, outcomes, and indicators of success. Before joining WCER, Vivien coordinated Centro Hispano's Escalera Program at Madison East High School – an after-school program that supports Latinx youth in taking the next steps towards their goals, accessing higher education and advanced careers.