In the Spring of 2020, the COVID-19 pandemic disrupted the lives of college students around the world with classes moving online, internships rescinded, and graduation ceremonies cancelled. These developments have affected the career plans and aspirations of a generation of college students. CCWT launched this oral history project to document and amplify student voices and experiences during the pandemic.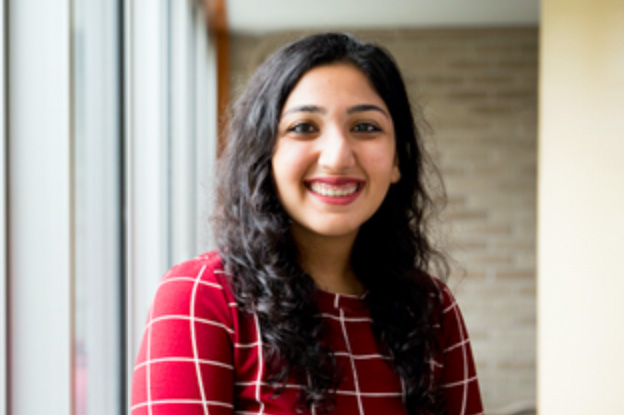 Shehrose Charania is a Health Promotion and Health Equity major, minoring in Global Health and Public Policy. She discusses her experiences transitioning out of her job as a housing fellow, her role applying to and obtaining internships, and the challenges she faces when determining her next steps. Shehrose also addresses experiences as a Muslim student and the ways the current protests have impacted her. This interview with Shehrose was conducted by Thaddeus Gue. The transcript was edited and condensed by Alexandra Pasqualone.
---
Why are you studying this subject? 
I started out as a nursing major, but I changed my plan. There was this major that was introduced, Health Promotion and Health Equity, which focused on specifically injustice related to the healthcare field. I am really interested in policy work so really this major is perfect for me because it focuses on inequities and how to alleviate health disparities. It is a great time right now to be a part of that. I am really interested in working with minority populations and this major helps me do that in the sense that I can create prevention programs that may affect different communities. I am really interested in working with immigrants and refugee communities and I am passionate about relieving the health inequities currently.
Were there any events that lead you to pursue this program? 
I grew up in Chicago and my parents are immigrants who did not speak English when they came to the U.S. A lot of our clinical appointments involved me coming in and acting as a translator for them. I noticed a lot of the times that healthcare professionals did not ask my parents specifically what was wrong with them. It was never a very productive conversation in the clinic. I just remember my mom really struggling with her health and her being uncomfortable going to these clinical settings because as an immigrant with language barriers, religious barriers, and cultural barriers, it felt as if her pain was not taken as seriously as someone else who spoke the same language as the healthcare provider. For me, it led me to understand where those disparities come from. I was influenced by my parents and seeing them struggle with the healthcare system.
When you first learned about the COVID-19 pandemic affecting programs and courses at UW-Madison, what was your reaction?
I was initially very disappointed, but also very nervous. We did not know this was going to happen and as a student on campus it felt like it came out of nowhere. It was also very discomforting to find out about this through text message, which was very weird and not as personal as they could have made it. I thought of different roles and responsibilities I have on campus and how that was going to be affected. A lot of questions came about, like "how I am going to finish the semester at home?" and "what does that mean for me?" I think for me, it was a shock, a lot of nerves, and a lot of questions went throguh my head.
I thought of different roles and responsibilities I have on campus and how that was going to be affected. A lot of questions came about, like "how I am going to finish the semester at home" and "what does that mean for me?"
Can you describe some of the ways the pandemic has affected your life as a student? 
I am a house fellow and for me, as a student, I had to bear the burden of finishing my studies at home but also having the responsibility of taking care of my freshman that were on campus. It was my responsibility to break the news to them, being that link between housing and them. I was more nervous about that since, as a student who did not really know what the university was trying to communicate, I had to convey that message to them as a housefellow. Because of that, it was very nerve-racking for me.
As a student, completing the semester at home was very difficult because when I came back home, it felt like my parents thought I was not in college anymore, that I was not taking classes anymore. Bless their hearts, but a lot of it was resuming the same responsibilities that I had to do when I was a high school student or a younger student. For me, it was very difficult to finish from home because I had to resume responsibilities at home. It was difficult to communicate this to my parents due to language barriers and being a first-generation college student. It was also hard for them to understand that, "Look I'm in a Zoom meeting, I am actually in class." It was difficult to get back into the family dynamic.
My mother tested positive with COVID as well as my sister. My mom works at the airport and my sister works at a clinic. It kind of was expected to happen, which was also hard for me because I had to be a student and take care of my parents and family as well when they were going through these tough times. I remember specifically that I was sitting in an attic space in my house. Because that was the only space, it was safe to take my classes since we had to isolate in our house. I had to attend class while also dealing with the pandemic in my life and at home. Later, I found out through antibody testing that I also tested positive. My reports were emailed to me while I was in class. I was thinking "wow, I am a student, but I am also dealing with this right now." I felt like it was a twisted thing that was going on. I could not imagine how many other students were experiencing this as well.
I had to attend class while also dealing with the pandemic in my life and at home.
Aside from remote learning, have there been any other changes to your university-related activities that you or the university have made in response to the pandemic?
Yes. I am also an Undergraduate Research Fellow, meaning I lead my own seminar. This is a program through the university. Every year the university hosts an undergraduate symposium, where scholars present at these symposiums. They were canceled, so we had to find ways for our scholars to present their research. These presentations became virtual. We met weekly through in-person seminars which transitioned to virtual meetings through BB Collaborate. It was very heartbreaking to see that these students would not be able to have this opportunity; however, the program hosted a virtual presentation for the students. Additionally, I actually had an internship lined up with the University of Michigan through the Center for Disease Control, but the CDC had to suspend it which was very heartbreaking for me because this is my last summer before senior year and before figuring out what I do after I graduate. It was the last time to get that interaction with people who are like-minded or people who want to pursue the same interests. It was very heartbreaking for me to learn that it was canceled, since I spent a lot of time completing those applications only to find out that I was accepted, and the internship was suspended. It was a lot to take in since it happened at the same time as my classes. Thankfully, I am involved in virtual internships right now, so it is fine, but I miss the in-person interactions that were supposed to happen this summer.
I actually had an internship lined up with the University of Michigan through the Center for Disease Control, but the CDC had to suspend it which was very heartbreaking for me because this is my last summer before senior year and before figuring out what I do after I graduate.
Are you employed during the school year and how has COVID-19 affected your employment?
I am employed as an Undergraduate Research Fellow and as a House Fellow. I will talk more on my experience as a house fellow since I was displaced from my housing due to this. This was very difficult. When the university said we were going to be back in two weeks, at that point I would have liked more attention to people living in residence halls. I felt like they did not take into consideration those of us in Wisconsin who were from New York. They failed to recognize that New York at that time was a hotspot for COVID cases. I had residents asking, "Why I would go back to New York when it is safest for them here?" Students from Wisconsin and Chicago could probably take a bus back home.
When Governor Evers first made the stay-at-home order, I was scheduled to go in. When we found out that we were going to be at home two weeks, I left all my stuff at the dorms. I obviously took my necessary things, but I left the rest there. Two weeks later I found out that we were not going back at all. I thought, "how do i get my stuf?" They had us select time blocks to get our belongings. I scheduled myself in March, but then the stay-at-home order was put in place, and they told us nobody could come in. My stuff was there for two months before they finally let us back in to retrieve it.
There was also a lot going on behind-the-scenes. I wanted more candid answers and more candid communication. We just received an email from housing about what would be happening in the fall. But it didn't make much sense. This was before the university announced they were going to open. There is no clear direction from housing. I think this is unfair because as an employee I want to know what is happening with housing and my current job status so that I can best support myself. Do I need to find an apartment for the fall or am I going to go back into the dorms? I feel like no one is keeping me in the loop and that is unfair to treat me as just a resident when I am also an employee. House fellows had to ask other house fellows what was going on because we were not getting answers from housing.
Yes, nobody has dealt with a pandemic in our lifetime. It has been stressful managing that as well as being someone who deals with mental health issues.
Were any of these changes especially difficult to manage? 
Yes, nobody has dealt with a pandemic in our lifetime. It has been stressful managing that as well as being someone who deals with mental health issues. It is hard when you are quarantined, and everything is virtual. There were times in class when I did not have connection, or the professors did not know we could not hear them. There were challenges in that way, but I think most of our professors were understanding in a sense that this is new. For that, I am thankful.
What are your future career plans and how has COVID-19 affected those plans going forward?
My plan was that I wanted to take the GRE test to apply for graduate school. I am not sure what my exact path is. The way I have it set up in my brain is that I want to do my master's in public health and eventually go into law school. I do not know when that is going to happen, but I want to go to graduate school right now. My goal is to not take a gap year but to go straight away.
Currently, with the pandemic, I do not know how to plan. I want to go to graduate school, but I also want to study abroad. If I were to take a gap year or go to school, I would want to go somewhere else. There are cool programs going on in Europe that focus on public health and I want to pursue them, but this year they were canceled due to the pandemic. It is a coin toss with the way the pandemic is going. We do not know if these programs are going to happen anymore. On the websites, they have a COVID disclaimer. They do not know what these programs are going to look like next year, if they will be virtual, and what that means.
As someone who wants to go to graduate school right away it sucks to know that I may need to take a gap year. I honestly do not want to do a virtual public school or virtual anything. I do not want to do it especially as someone who wants to work with people on the front lines. It is just my preference. I generally like being in class and having more interactions. That is just me as a student. I do not know what I am doing. Should I study for the GRE so I can take it and apply? And if I apply what if the programs do not follow through for the next coming cycle? These are the questions that have affected my career plans, which is an added stress. Graduate school is stressful enough but adding the pandemic on top of that makes it confusing and a lot more stressful than what I would have liked it to be.
Has COVID-19 affected the availability of internships and entry-level jobs in your field of interest? 
My public health internship in Michigan was canceled. Obviously at that point it was my last summer, so I had to do something. I ended up applying for a different internship at senator Baldwin's office and I got it and it was great, but they were also skeptical about having in-person interns during the summer and there was no opportunity to do a virtual internship through them, so it ended up getting canceled as well. Thankfully at the time there was an opening for the literacy network in Madison, which is an organization that helps teach English and other computer skills to low-income immigrant communities. They made this internship virtual. As someone who wanted to work with immigrant communities, I got it and I am currently doing an internship with them.
The internship is focused specifically on families that have been impacted by COVID. We set up a needs survey that asks refugee communities about the pandemic's impact on them and how, as a partnering organization, we can help them. Another part of the internship involves leading their weekly tutoring session. I manage a tutoring session through Zoom. I started in May and it is through August. I spend about five to six hours on that internship but that was not enough to keep me busy. Sometimes it becomes challenging to complete the work at home. Like I said before, family dynamics are different at home, so completing work at home can sometimes be less motivating. It is not that same sense of community as in-person internships where you see people and problem solve together.
How has the pandemic affected your job search? 
The pandemic has affected my future job searches. As someone who wants to go into public health there are a lot of opportunities when it comes to public health in the future. The pandemic has influenced that in a positive way because now, unfortunately, we need careers and individuals to prevent a pandemic from happening again. Minority populations have also been disproportionately affected by the pandemic. Because these disparities have become more apparent, there are more jobs now currently in those fields.
For example, there was a job I saw as a COVID-19 tracer for that you did not need that much experience. You just had to be interested and keep up with phone calls to attend to the ways the virus has spread. There has also been more job growth for healthcare providers as well. My sister is currently a nurse and there are a lot of jobs for her on the market right now. But she is risking her own life. Being a front-line worker is a lot more challenging, but there is an opportunity to get paid more. Overall, there are a lot more opportunities in the field I want to go into.
What support do you think students need from their colleges or universities to get a job in the middle of this crisis? 
There definitely needs to be better communication and more resources available. I am in the School of Education at UW. I am not sure if any other schools have done this, but the School of Education called every single student in the school to ask what they could do for them. I had a five to ten-minute conversation with the staff basically asking a series of questions like "how has the pandemic affected me," and "what can the School of Education do for its students." After that call they sent me the things that I asked for, including job descriptions that are available.
My advisor from back home ended up emailing me and we did a google hangout meeting basically to help me find different employment opportunities. At that time, I was just looking, but she ended up helping me figure it out. I had options. She helped me go through what internships I should select and apply to. I thought that was nice of the School of Education. I think that was a good initiative for students to get their needs addressed one-on-one.
I am not sure if any other schools have done this, but the School of Education called every single student in the school to ask what they could do for them.
In recent weeks, we have seen massive protests for teh death of George Floyd in Minneapolis. Have these events affected yo in any way?
Yes. As someone who is passionate about social justice and racial inequities that exist, it angers me. I want to acknowledge that George Floyd is not an isolated incident. There are multiple Black men and Black women who have been affected every day, day-to-day, by the disgusting police brutality that exists. For me these protests are not surprising. These are things that exist and affect people day-to-day. Personally, with these protests there are two sides. I have family in Atlanta. I do not want to say that they were protestors, but looters broke into my family's jewelry shop. Glass was shattered and they stole a lot of things. In that sense, it has affected me personally. Riots have had a negative impact on my family but at the end of the day it is important to recognize that there are different people at different protests, some who are going to take advantage of the protest and some that are for the cause and fighting for these injustices happening every day.
Have these protests impacted your future academic interests or career plans? 
My academic plans have always included racial justice within health. I spent my whole life, inclduing most of my undergraduate career, fighting for health inequities that exist speciacally in minority communities — whether that be Black, Latinx, Asian, or among other minority populations. I have always been someone concerned with alleviating those inequities. I am glad that people are acknowledging that they exist. Research I want to go into includes food insecurity and how that has affected Black communities where people live in food deserts, meaning they do not have access to grocery stores, or education, and transportation. Those are issues that have always been affecting communities of color.
I am more passionate and more motivated and more determined to go into the field of my choosing which is public health. Now more than ever we need more advocates and more activists fighting for individuals who have never had that access or those resources in the first place. Regarding academia, I want to go into public health and gain as much knowledge as I can in institutions who pursue the same interests as me. In terms of my career, I know that systematic change occurs on the policy level. I want to pursue law in order to become an advocate for those policy-level changes that affect people's lives. Now more than ever, I think I am motivated to do that. It helps me solidify my career plans even more that these problems are not going away anytime soon.
Have you personally experienced racism on campus? If so and only if you are comfortable doing so, could you possibly describe that situation? 
Yes. My family are Pakistani and immigrants. I remember a professor making this very insensitive remark. It was a class on terrorism and the class syllabus perpetuated the idea that terrorism can only come from individuals that practice Islam. It was written in such a way that perpetuated stereotypes and misconceptions against people who identify as Muslim. My friend ended up reporting that class and syllabus to the department. That was two years ago. That is not acceptable.
We need to recognize that there is domestic terrorism that happens on American soil every single day. I think for me that was a chance where I felt very excluded from the class itself because there were only three of us that were Muslim. It felt like my religion was his talking point and his critiquing point, as if he was teaching it from a one-sided perspective.
Another example is that I was taking a class on the Arab Spring. It addressed uprisings occurring in Arab countries. I am not a hijabi woman, but after watching a video shown in class a white student boy specifically said to me "you're Muslim, but you are not oppressed because you're not wearing a hijab." In my head I thought it was such an insensitive stereotypical comment to make to someone who practices her religion but who does not need someone else to tell her what is acceptable in her religion and what is not. I remember having a conversation with him telling him that it is not acceptable for you to say that and this is why. I think this is because people have these stereotypes and misconceptions of what a Muslim looks like, and what a person of color looks like. There are these stereotypes and generalizations that people like to put on other people. I think that is what I was a victim to in that class, but I have always been comfortable talking about my religion and my race and where I am from. For me, that was a moment of educating a person, even though I feel like I should not have had to. Those are incidents that I can think of right now that have had a direct influence on my religion and where I come from.
Do you have any final thoughts? 
I think I am in the stage where the year of 2020 has shed light on injustices within our system. It has shown how our system, in a lot of ways, has been flawed for many years for a lot of individuals of different races. I think one of the examples or things we can talk about is that every minority has been directly impacted by this pandemic and this year. Regarding the Latinx community, there are still children in immigrant detention centers who are experiencing the pandemic as well, who are sick in these cages. That is one.
Secondly, there's the police brutality that has been happening. I think what angers me the most is that people must protest during the pandemic. It is unacceptable that police brutality has been ongoing for years. For the community I come from, the Muslim community, the pandemic has affected people from countries like Yemen where they are currently dealing with the biggest humanitarian crisis and where they might not exist as a country because of COVID. There is another example where we have the Asian community who are subjected to racism because of COVID. I have had friends who have been discriminated against at the grocery store and who were talked down to because they were Chinese. Every minority has been dealing with different hardships in different ways. This is not new, but I think the pandemic has expressed these very disgusting and very significant insights. I am curious to see where the future will lead.
---
Staff
Thaddeus Gue is a fourth-year Posse Scholar majoring in Interior Architecture at the University of Wisconsin-Madison. His professional interests are focused on design strategy and user-oriented environments. He is specifically interested in using design thinking and evidence-based research to improve healthcare and commercial environments through quantitative and qualitative means.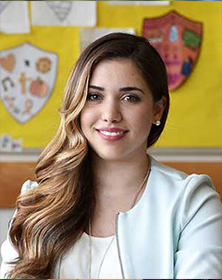 Alexandra Pasqualone is a second-year student in a Joint PhD in Educational Policy Studies (EPS) and History. She has spent several years teaching in various capacities, including positions as a high school teacher in NJ, an English teacher at Akdeniz University in Turkey, and a Career Access and College Readiness Coordinator in Philadelphia. She is broadly interested in the historical role of youths as major activists who spurred changes within their communities. As part of her MA thesis at the University of Cincinnati, Alexandra conducted an oral history project attending to the protests of high school students in Philadelphia during the late 1960s and 1970s. Her current research centers around the implications of schools on Arab-American identity formation during the mid-twentieth century.