In the Spring of 2020, the COVID-19 pandemic disrupted the lives of college students around the world with classes moving online, internships rescinded, and graduation ceremonies cancelled. These developments have affected the career plans and aspirations of a generation of college students. CCWT launched this oral history project to document and amplify student voices and experiences during the pandemic.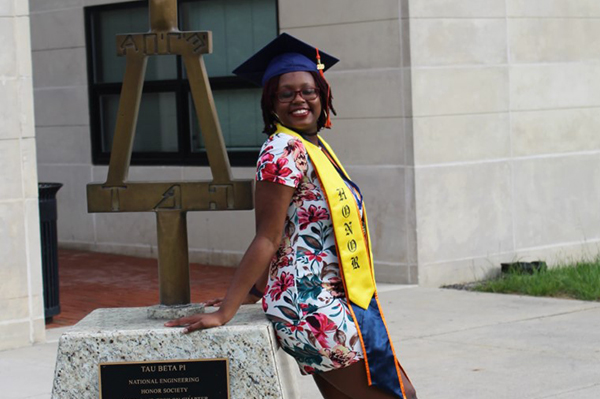 Candice Tranks is a Senior Electrical Engineering student at Morgan State University. Initially, she was a business major, but found a passion for electrical engineering through her friendships with other students in the engineering field. As an undergraduate, Candice has had two paid internships with the United States military. It was during her internships that she clarified her interest in working in the government because she observed that engineers working in that sector have greater opportunities and more job security compared to contractors. The goal to work n government motivates her because, as a woman of color, she perceives systemic inequities that defy her and minority populations' access to opportunity. Her first internship was in the Summer of 2018 working at the Naval Surface Warfare Center in Dahlgren, Virginia. It included a two-year internship offer with prospects of receiving a job upon graduating. There, she was mainly tasked with work that would familiarize her with their control system, software, and hardware. These tasks were directed towards preparing her for her second summer and prospective position as a fulltime employee.
Despite having a positive first internship experience, during the Summer of 2019, Candice decided to pursue an internship opportunity within an Army Research Lab closer to home in Maryland. There, she enjoyed having significant role in developing a device that would help the lab test their energy and power systems. After graduating, she will be starting her career at another Naval Surface Warfare base in Bethesda, Maryland. The interview and the transcript for this profile was conducted, edited, and condensed by Kevon Williams.
---
Please tell me a little bit about your internships.
Two years ago, during the Summer of 2018, I was working for the Naval Surface Warfare in Dahlgren, Virginia, which is one of the Navy's bigger bases that works with sea vessels. There, I was mainly being introduced to the world of the Naval Surface Warfare Center. I did not actually do much independent work on the ships. I would follow my mentor onto ships to oversee their different cabinet systems, like the ship's control system. The goal was to familiarize myself with the software and the hardware because the internship was supposed to last for two years and lead to a job offer once I graduated; however, upon completing my first summer there, I decided not to continue.
For the Summer of 2019, I worked for an Army Research Lab in Maryland. Given that I lived in Maryland, this internship was closer to home for me and I did not really like Virginia per se. Here, I was the only intern in the Power System Group. I got to work with their various systems and programs, and I was tasked to design my own prototype. This prototype was to be a smaller and faster design of a device than was previously developed by the lab for their power systems and grids. I successfully did that, and I actually won second place in a project competition they organized that summer.
Why did you decide to pursue an internship?
Prior to interning, I was working a campus job. Working just on campus was not enough for me. I was ready for the real experience working somewhere within my field and applying what I am learning in class. I was ready to get my hands dirty. That is why I decided to get an internship.
I was ready to get my hands dirty. That is why I decided to get an internship.
What were you hoping to gain from completing your internship?
I was hoping to be able to talk to people who are in the field and could provide me an idea of what it will be like when I graduate. Learning and working with the material in school is so different than actually going out into the real world and doing it yourself. So, I wanted to see how the things I am learning in class apply to science in the real world. And I wanted to be able to take the knowledge gained from my internship to help other students through their college experience.
Can you please describe the changes that have occurred in your life due to the Covid-19 situation?
So, a lot of things have changed for me. My last three months of college were basically ruined. Missing out on school is depressing. I am unable to see friends because not everyone lives in Baltimore. Also, we are not going to have a graduation where I get to walk. They are just mailing us our regalia and our caps and gowns to own. It is overall disappointing.
I currently am unable to work. Before the pandemic, I was working as an after-school STEM teacher. Because schools are closed, I am now unfortunately unable to see my students and I am also losing out on money. I have not been able to do anything else but spend my days in the house doing schoolwork on my laptop.
Before the pandemic, I was working as an after-school STEM teacher. Because schools are closed, I am now unfortunately unable to see my students and I am also losing out on money.
Additionally, one of my parents is high risk for the coronavirus. Therefore, I have not been home to see my parents, siblings, and dog. I am living with my boyfriend instead and only see my family maybe once every three weeks when I go to get clothes. On those days, I only get to see them from the window for about five minutes, which has been depressing.
Considering that I will soon be working on a government base, they already told me that it is highly likely I will be teleworking. I still have not had the opportunity to go on base to meet anyone or see what it looks like. I have only been on the phone with my potential supervisor. So, things are still in the works for me regarding my job.
How have you been coping with these changes?
Some days are better than others. I was able to get a bit of money to help my situation from somebody hitting my car last month and I was compensated by the insurance company. I have been using that to pay some of my bills. I'm spreading my funds out until June when I start working. I have also been doing little surveys and interviews like this one to try and find little ways of getting money. Other than that, there has not really been other resources that I have been drawing on financially.
For my mental health, I like to write in this app called Evernote. It is like a diary. I just write whatever is on my mind in it. My boyfriend has been incredibly supportive, though most of the time he is gone because he is an essential worker. This week, he is working 12-hour shifts six days of the week. We do get to talk when he is at work, though he is gone. I also call my parents or FaceTime with them.
In reflecting on your internship experiences, what do you feel you have gained moving forward in your career?
I have gained security and the knowledge that I will be okay in the workplace post-graduation. They have improved my confidence in my ability. Also, from working in such a diverse setting, I know how to interact with people at different career levels. Overall, I now feel comfortable with being in the work field. If I had not done these internships, I probably would have no idea of what I would be doing moving forward and would be scared to graduate. Now I feel the total opposite; I feel ready for the world.
I probably would have no idea of what I would be doing moving forward and would be scared to graduate. Now I feel the total opposite; I feel ready for the world.
---
Staff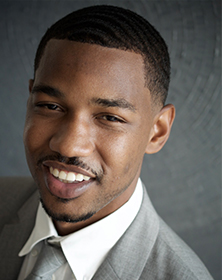 Kevon Marquis Williams is a second year post-BA PhD student in the Department of Counseling Psychology at UW-Madison. He was born and raised in Inglewood, California and acquired his Bachelors of Arts in Psychology at California State Polytechnic University – Pomona in 2018. Broadly, his research interests are assessing sociocultural determinants' impact on ethnic minorities' mental health (e.g. trauma & impostor feeling) and education/career outlooks, especially in Black/African American students. Kevon is also a National Academy of Sciences Pre-Doctoral Ford Foundation Fellow whose professional goals are to be a tenure track professor that pursues interdisciplinary research serving ethnic minority communities and policy efforts that bolster diversity within academia.